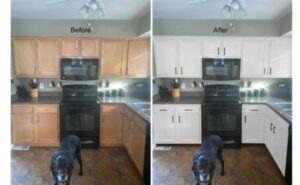 Our experienced and dedicated family members are Committed to giving you a highly durable beautiful finishes using non toxic low voc coatings.This craftsmanship is combined with a dedication to exceptional customer service. The following are some highlights of the Painting Kitchen Cabinets, Colorado, process.
Get any appearance you want by selecting any color, or match to whatever you'd like such as tile or counter.Then select any sheen level.
Our paint looks like it was personally applied, not like a film of plastic.
We use waterborne primers, paints, and protective clear coats as the basis for the Painting Kitchen Cabinets, Colorado, painting system.
All of the coating products we utilize are non toxic, very low VOC, and can be safely applied in an inhabited house or building.
Painting Kitchen Cabinets Process Overview

We start with removing all hardware, and seal your kitchen off with plastic at openings, mask off entire kitchen (floors, backsplash, and appliances). Cabinets, are sanded, and if contracted we will bondo imperfections but never seams because of the high Probability of recracking. Your cabinets are sprayed with primer, sanded, and then spray finish the inside and outside of cabinets & drawers with the color(s) of your choice.
Next your kitchen is put back together, all masking paper and tape is removed and the kitchen is cleaned up.
Painting Kitchen Cabinets, Colorado, is one of the best ways to change the feel of your kitchen and create a like-new experience. Our residential painting company tackles your cabinet painting project with the industry's best equipment as well as more than 38 years of experience. We understand that having your kitchen turned into a construction zone is stressful, so we work efficiently without compromising on excellence. We easily handle the multi-stepped process that bogs down so many DIYers — cleaning the cabinets, removing the doors, organizing the hardware, prepping the surfaces, applying multiple layers of paint, and then putting it all back together.
Our regular process is to remove cabinet doors, drawer fronts, and interior doors and refinish them in our shop, using our airless sprayer equipment.  Spraying produces a much more uniform finish, without brush marks. And because the work is done in our shop, that's where the mess stays, not in your home. So you can continue to use your spaces while the painting work is being done. 
Then once painting is completed, we will reinstall the doors and drawer fronts. You get a transformed kitchen or bath, without all the mess!
In addition to painted cabinets, doors, and trim, we also handle in-shop refinishing such as staining and varnishing.  If your cabinetry and doors are structurally sound and you still like the design, then maybe all you need is a facelift with a clean, new finish and perhaps some new hardware.  (We can install that as well, when we put those doors, drawers, and cabinet doors back in place.
While our shop works great for these larger projects, at times our customers would prefer that the work be done in their homes, or perhaps it's just one piece so it doesn't make sense remove/move/reinstall things. In that case, we mask things off to minimize the mess. And of course, we'll clean up afterwards so no evidence remains, other than gorgeous cabinetry, doors, and trim.
Painting Kitchen Cabinets Colorado
Based on just how much time is spent there, kitchens are often one of the most luxurious and modern features of Denver-area homes. Cabinet Refinishing Colorado, is a great way to save money.The kitchen can be easily be considered the heart of the home. This is why so many homeowners in the Colorado, area invest into updating their kitchens more than any other room in the house. Whenever you decide to get your kitchen cabinets painted, it is important to consider hiring professionals kitchen cabinet painters.
The easiest and most effective way to make a drastic difference in your kitchen is by painting the cupboards. Kitchen cabinets are generally expensive household fixtures to replace if you don't like the way they look. This is why homeowners often call us to paint or stain their cabinets. We can paint, stain or refinish kitchen cabinets, depending on what look our customers want to achieve for their dream kitchen.
You could save yourself thousands of dollars by renewing your kitchen cabinets with a fresh coat of paint. Replacing your kitchen cabinets is an incredibly expensive choice. Painting your kitchen cabinets can be a time consuming endeavor. Making sure they look perfect is a difficult task to undertake on your own. Choosing to paint your kitchen cabinets is a step towards increasing the value of your Denver, home without the expensive renovation. Not only will they look gorgeous, but that built up grime and grease will become a thing of the past.
Save yourself the stress and leave it to the professionals. Stunning looking kitchen cabinets are a phone call away. We know the right kinds of paint that will create the best finish on your Colorado, kitchen cabinets.
Our staff here is experienced in fine wood refinishing and performs one-job-at-a-time to insure total focus with each Customer insuring a 100% totally satisfied outcome… We do not use cheap products like house painters caulking on your expensive cabinets Reach out to us for a Google Photo Link of our work and you will agree that we are both Affordable and High-Quality!
Painting Kitchen Cabinets, Colorado, and Beyond including, Highlands Ranch CO, Parker Co, centennial Co, Castle Pines Co, Castle Rock Co, and all of Douglas County, Lakewood CO, Littleton Co., Jefferson County, Broomfield, Thornton, Littleton, Arapahoe County, Adams County and all of Denver County, Centennial CO, including Boulder Co, Colorado Springs CO and the entire state of Colorado. Superior Colorado, Louisville Colorado, Frederick Colorado, Longmont Colorado, Loveland Colorado, fort Collins Colorado, Lafayette Colorado, Erie Colorado, and Firestone Colorado.
So The kitchen of your dreams begins with one you already have. Painting Kitchen Cabinets Colorado, and the entire surrounding cities, and the city of Denver, wide leader in cabinet refinishing, cabinet refacing, cabinet glazing and cabinet resurfacing. With several locations in the Colorado, area, we are able to do work all over Denver.
So Whether you are looking to refinish your current cabinets, fix your cabinet doors, or install brand new cabinets and apply a fresh new coat of paint, We offer the highest quality craftsmanship and professionalism for cabinet refinishing services in all of Colorado. We get the job done right the first time, every time. Don't waste your time or trust your kitchen cabinets with an inexperienced handyman. Let us here at Painting Kitchen Cabinets, Colorado, transform your kitchen cabinets into the hand finished Is amazing factory finished custom color you've always wanted.
Finished fine wood brings a warm, comfortable, and luscious glow to any living space. Enjoy our convenient professional bathroom or kitchen cabinet refinishing as it brings out the beauty and luster of a natural wood grain.
You also have the option to go with many other finish optional types. For example, a more modern solid color look or even an antique look. The possibilities are endless.
Refinishing Bathroom Cabinets in Colorado
Painting Kitchen Cabinets, Colorado, can add some spark to your dated bathroom. Due to the versatility of paints, stains, glazes, and finishes, cabinet resurfacing is a breeze when you trust us to do the job. The dependable crew at Cabinet Refinishing Colorado, are exceptional at cabinet staining and repainting cabinets for your Colorado, bathrooms. Let our experienced cabinet refinishers use their professional techniques and talents on your Denver, bathroom cabinets and reclaim their beauty. Your bathroom vanity will never look better with one of our quality finishes.
 

Why Choose Us For Your Kitchen Cabinet Painting Colorado
For over 38 years Painting Kitchen Cabinets, Colorado, has been providing custom cabinet refinishing in Denver, Colorado. Our attention to detail and excellent customer service is what has kept us in business and keeps our customers coming back! You can trust us that your cabinet refinishing in Colorado, are as courteous as they are knowledgeable and that you will be delighted with your updated cabinets. Contact us about your cabinets refinishing project in Denver, Colorado. Our cabinet painting crew will be happy to provide you with a competitive quote and stand by the outstanding cabinet refinishing service that we deliver.
Contact Us for Painting Kitchen Cabinets, Colorado
If you want to transform your kitchen or bath with updated cabinets, call Painting Kitchen Cabinets, Colorado, today for a free quote for cabinet refinishing at 303-573-6666
To see more painting kitchen cabinets, Colorado, tips click on the link below. Other companies work ethics may not reflect Painting Kitchen Cabinets, Colorado, work ethics for we do not use cheap latex caulking or bondoing seams because of the high Probability of recracking and you cannot sand latex caulking.
https://www.google.com/amp/s/www.thisoldhouse.com/platform/amp/painting/21289881/best-primer-and-paint-for-kitchen-cabinets