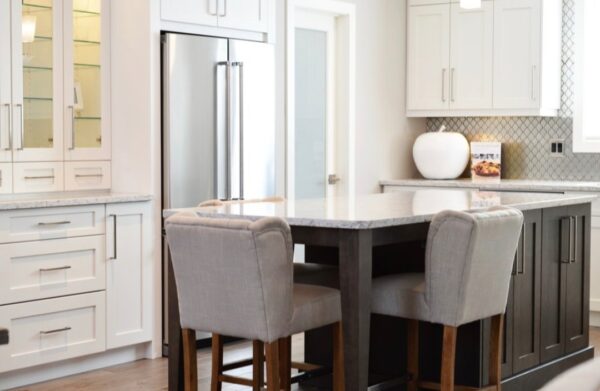 Kitchen cabinet painting is a quick, fast and inexpensive way to dramatically update your kitchen.  We come in to remove then clean, sand and thoroughly prep your cabinets doors and drawers in our shop. Once they are ready we professionally spray a substantial coat of primer followed by an extremely durable coat of either Benny Moore Advance or Sherwin Pre catalyzed lacquer providing a satin finish. We then clean and prep and coat your cabinets right where they are without spraying. You will love the finished product. 
It's a great way to refinish your kitchen on a budget.
Did I mention the sprayed on finish so your cabinets will look like they just came from the factory? The finish is very durable, very Washable!
Painting Kitchen Cabinets Denver, have formed relationships with reputable interior designers and decorators here in the Denver area, and started to realize there was a niche market for refinishing kitchen cabinets. For the past 37 years We have specialized in this area, and still does cabinet painting projects if requested by his clients.
We have built a solid reputation by putting customer satisfaction above all else. Painting Kitchen Cabinets Denver,  provides a written warranty on all our workmanship. We spend time with our customers and we go above and beyond to make sure they feel they have received what they have paid for and are happy. Only the best quality materials and Benjamin Moore paints are used for the refinishing of kitchen cabinets.
Our extensive knowledge of painted finishes allows us to offer unlimited options in color, design, and finish styles for your project. We can help you create an environment that reflects your distinctive taste, style, and personality, expecially in a beautiful state of Colorado.
Replacing cabinets is the least expensive part of most kitchen remodels. For a fraction of that cost we can refinish the existing cabinets. We also offer trim and molding painting and refinishing, and handle/hardware replacement.
Cabinet doors and drawers are removed and fine finished sprayed in our denver shop, ensuring a factory quality finish. Cabinet bases are finished onsite by a spray finish and never a brush. Kitchens are finished with the highest quality Benjamin Moore paints on the market. Low and no VOC products are also available, ask us about details pertaining to these products.
Contact Ustoday for a FREE no obligation estimate. We would be happy to schedule an in home estimate or to send you a quote.
I think we have all been there before. Most of us will never even go down that road again. KITCHEN REMODEL. The dust, no water, no electric, no flooring, loud construction, no stove, more DUST…the list goes on forever. Fortunately, if you are in the market for a face lift and most of your kitchen is in decent shape, then there is no better or more dramatic update to your space then when you refinish your kitchen cabinets. At Painting Kitchen Cabinets Denver, we have developed a one-of-a-kind process to help you achieve the ultimate factory finish for your kitchen cabinets.
Whether you are looking to update your kitchen yourself or looking for full-service kitchen and bath refinishing services, we can help. Our kitchen Cabinet refinishing experts work with you from initial design and product selection to final completion of your kitchen or bath.
As a kitchen cabinet painting company here in the metro Denver area, we are able to provide completely custom cabinet refinishing services here in the Denver area including all of Colorado and surrounding cities for a wide range of cabinet refinishing and cabinet painting budgets.
Painting Kitchen Cabinets Denver,  invite you to visit our Website and all our uploaded youtube videos. We are conveniently located in the heart of Denver County and minutes from from any of the surrounding counties and cities in all of Colorado, Here you will find a large selection of kitchen and bath cabinet refinishing Experience, what we give you quality control stat affordable prices.
Wood Cabinets look great in your home but when you're building and shopping new, some manufacturers provide them unfinished and you'll have to find somebody to refinish them for you. if you've had wood cabinets in your home for many years they may even need refinishing due to wear and tear we are you're company.
Painting Kitchen Cabinets Denver, specializes in finishing and staining wood cabinets and other custom wood furnishings in your home. We take extra care in our surface preparation and only the use the best of the best when it comes to cabinet refinishing in Denver. We can help you with your color choices and offer many different scenarios that will work with your existing decor.
Painting Kitchen Cabinet Projects Include
Proper selection of paint or stain.
Proper surface preparation.
Priming if required.
Final sanding.
Final coat of paint or stain.
We've finished cabinets in kitchens, bathrooms, living rooms and anywhere else you may have some wood cabinets that need to be stained or painted.
PAINTING KITCHEN CABINETS VS. REPLACING CABINETS
Kitchens are one of the most utilized rooms in a home, and within that space, cabinets and drawers are perhaps the most used and abused surfaces, aside from countertops and stoves. Over time, cabinets and drawers experience wear-and-tear, including fading paint and stain, as well as chips and dings. Dirt and grime also build up over the years. The combined effect is ultimately substantial, but this is certainly not impossible to remedy.
Now, if one desires an aged, vintage or "lived-in for many years" aesthetic, time's erosive qualities are something of a bonus since they can be used to great effect in decorative finishes. On the other hand, if one desires a new and striking look, it will require either replacing cabinets or choosing a paint job that creates this effect by giving you a factory finish.
Replacing the cabinets will be an expensive project and might well be unnecessary, particularly if the cabinetry is already of high craftsmanship quality. But, if the cabinets' structural integrity is questionable, then replacement might be unavoidable. Otherwise, a new paint job or refinishing combined with new hinges and door/drawer knobs will do nicely.
For instance, if homeowners have a center island detailed in one color, the cabinetry and drawers can be counter-pointed in another color for a nice accent. A decorative finish is also quite desirable.
Homeowners will wonder what type of paint and application methods are required. At Painting Kitchen Cabinets Denver, we are experts at spraying cabinets to create a refined and brand-new look. One would never be able to guess the cabinets were as old as the house (if that is what is desired, of course). We remove the cabinet doors, take them back to our factory spray booth, clean the cabinets free of dirt and grime (remove the surface if so desired), then apply a special paint coating to transform the look of doors and drawers to the homeowners' desired look. We bring the cabinets back to the home, spray the cabinet framing in place, reinstall the cabinets and drawers and install new hardware. And, again, this will be done at a fraction of the cost of full cabinet and drawer replacement.
On average, painting cabinets and drawers in a small or average kitchen costs approximately $2,000-6,000, while full replacement of the same size would cost between $11,000-20,000. The other added expense in replacing or re-facing is that you typically end up having to update your counter tops, electrical and much more. Therefore, the cost can continue to go up. In both cases, it really depends on the extent of work desired and, of course, the techniques utilized. If the cabinets are in great shape and you are just tired of the color, painting is economical and will look brand new when finished by Painting Kitchen Cabinets Denver,  over the previous surface is cheaper than resurfacing, which involves a removal of the previous paint job. Decorative painting techniques such as glazing, crackle finishes and distressed looks are often found in books on home decorating ideas. These will create some added costs, but will look fantastic and be far cheaper than full replacement.
With over 37 years of experience, Painting Kitchen Cabinets Denver, is dedicated to quality cabinet refinishing and cabinet painting services to all of Colorado including All surrounding cities and we're ready to clean and paint all types of cabinetry in kitchens or any room throughout your home. We service areas throughout all of Colorado.
Interested in repainting kitchen cabinets? You're in luck. Our Denver Co. Cabinet painters are dedicated to helping you renew the look of your kitchen with a fresh coat of cabinet paint. We use only the best paint for cabinets so you can enjoy vibrant long-lasting color.
We have over 3 decades of experience with painting kitchen cabinets, which means we are able to work efficiently and produce quality results. Whether you plan on selling your home in the near future or staying put for years to come, there are many benefits to repainting cabinets. For example, painting kitchen cabinets white can help your home appeal to a wider range of prospective homebuyers.
Iur Denver cabinet painting contractors, here in Denver, Painting Kitchen Cabinets Denver,  can help you choose the best paint for kitchen cabinets. For example, you may want to consider painting cabinet doors a color that complements your home's interior design.
We will also make sure that we properly prepare the surface of your kitchen cabinets before painting to prevent any peeling or flaking. It is always our goal to make sure you are happy with our quality of work.
The Denver Co. cabinet painters at Painting Kitchen Cabinets Denver, work hard to make sure you are completely satisfied with how your cabinets look. If you are interested in learning more about cabinet painting, home interior painting, or our other painting services, you can contract us simply calling today! 303-573-6666.
he professional cabinet refinishing and kitchen cabinet painting, located here in Denver Co. serving all areas including, Loveland Colorado, Boulder Co, Highlands Ranch CO, Parker Co, centennial Co, Castle Pines Co, Castle Rock Co, and all of Douglas County, Lakewood CO, Littleton Co., Jefferson County, Broomfield, Thornton, Littleton, Arapahoe County, Adams County and all of Denver County, Centennial CO, including Colorado Springs CO and the entire state of Colorado. Superior Colorado, Louisville Colorado, Frederick Colorado, Longmont Colorado, fort Collins Colorado, Lafayette Colorado, Erie Colorado, and Firestone Colorado.  know firsthand that your kitchen remains an essential part of your family's home. It's where you gather with friends and family, and it's important that it looks great. Something as simple as cabinet painting or refinishing can make all the difference in your home.
Even expensive, custom cabinetry becomes dull and worn after years of use. Smoke, oils, dust and grimy fingers all contribute to tarnishing the finish of your wooden cabinets — radically changing the overall look of your kitchen.
While replacing your cabinets costs thousands of dollars — and tearing up your kitchen for several days — refinishing the doors and front surfaces provides equally effective results for a considerably less cost especially here at Painting Kitchen Cabinets Denver.
We specialize in a full range of cabinet painting and refinishing services:
New kitchen cabinet painting
Converting hardwood cabinets to a painted finish
Changing painted kitchen cabinets to a new color
Color matching and consultation
Hardware and hinge upgrades
New kitchen cabinet staining and refinishing
Stripping, re-staining and protecting existing finishing
Clear finish coats for sealing and protecting
Giving your kitchen a fresh new look without breaking the bank remains our number one priority. We stand by our reputation as Denver's premier cabinet painting contractors and work tirelessly to provide exceptional customer service and top quality results.
When you decide it's time to paint your home, you want everything to go right. The right plan. The right paint. The right painters. At Painting Kitchen Cabinets Denver, unique mix of experience, skill, and dedication to our craft, we work with you to make sure it's a great experience.
We start by listening. We learn about your needs and the scope of the project. What do you envision? What are your goals? Once we understand your needs, we provide a detailed estimate, with each element of the project described and priced. No confusion. No surprises.
All our  painters are full-time professionals who are passionate about what they do and We are strictly a family owned business. They are proud craftsmen who show up on time and work hard, with attention to detail and commitment to quality.
Our high-performance painting products and materials, combined with our painters' expertise, ensure a beautiful, on-budget outcome for you. And you can enjoy peace of mind knowing that our crews are insured and your property is protected with liability insurance.
Every job has a crew leader who makes sure everything goes smoothly. Open communication is critical, so the crew leader will reach out to you at least twice a day to touch base and answer any questions.call us today! 303-573-6666
To see more painting kitchen cabinets Denver Colorado, tips click on the link below.
https://www.thespruce.com/remodel-a-kitchen-where-to-start-1976585