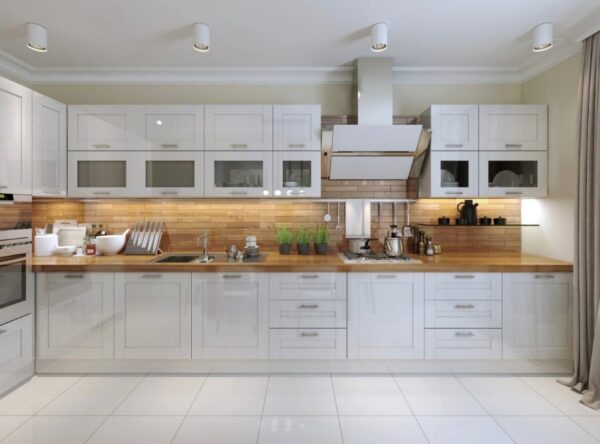 Some of the Major Benefits to Refinishing Kitchen Cabinets are:
Cost is usually 40% to 70% less than complete kitchen tear out. Superior quality materials like 100% acrylic and pre catalyzed lacquer primers on the doors and drawer fronts when compared to builder grade cabinets.The installation for refinishing cabinets usually takes 3-5 but most the time depending how busy we are up to 2 weeks. New kitchen remodels usually take weeks or months to complete. Less mess and aggravation. In most cases you can still use your kitchen during the refinishing process. Less plumbing and electrical work is needed. Have the option of keeping your existing countertop.Can add some new cabinetry if needed
Cabinet refinishing, is considered a green option to complete kitchen remodeling. It is estimated that 90% of homeowners keep the same basic layout of their kitchens. This makes refinishing a more eco friendly option because there is less waste being sent to landfills. In most cases, we can modify your existing cabinets to allow for some changes, such as different appliances.
Options for cabinet refinishing,  are very similar to that of new cabinets. The selection of door styles, wood species, stain colors, glazing, crown molding and hardware are nearly endless. You can have the kitchen of your dreams.
Cabinet Door Refinishing, often called a  complete makeover, is alower cost option that can usually be completed in days. With this option, we refinish only the doors and drawer abd cabinet bases. This works very well if you like your existing stain color, or have painted, thermofoil, or Formica cabinet boxes. We work with you to match your color of choice. We can also match acompletely new color, if you choose to paint the boxes. The new doors and drawer fronts are professionally Refinished, to give your kitchen a brand new look and feel.
Most Painting Contractors do not paint cabinets, as they are like furniture, and need to be painted properly for them to turn out well, and hold up over time. You can paint anything, you just have to use the right products and the correct method. Over the years I have had the patience and experience, to have perfected the method of painting cabinets, and I have a lot of confidence, pride and joy in doing so.
I do all the work myself and with my son little Jesse who ain't so little anymore. Lol., and you will not be disappointed! The entire project generally takes me about 7 to 10 business days and sometimes close to two weeks to complete, using the following procedures:
We remove the Cabinet doors and take them to my shop to be sprayed.
In the Kitchen I finely spray paint the outer shell of the Cabinets and the front of the drawers.
All of your belongings can remain in the Cabinets and drawers during the entire process.
The Cabinets receive any cleaning, light sanding and/or bondo, where needed.
When you work with our team here at Cabinet refinishing, your worn out, stained, tired-looking kitchen cabinets are given new life and new color. What does your dream kitchen look like? With paint, you can brighten your kitchen, modernize your cooking area, coordinate with new appliances whether it be all black or stainless steel, or change your existing color scheme. White is the traditional favorite for New Denver Colorado kitchen cabinets, but we've worked with clients who've updated their kitchens with turquoise, gray, and even black. Anything goes when it comes to painting kitchen cabinets here in Colorado!
All hardware and felt bumpers are removed from your cabinet doors.
Each cabinet door and drawer front is carefully and Sanded using hand power sanders.
Next, they are coated with one coat of highest quality primer that goes over all the sanding scratches and bonds perfectly.
At this point, flaws are repaired and gaps are caulked using 25-year caulking products.
Then, the cabinet doors and drawer fronts receive high quality industrial coatings using our special techniques with airless sprayers and double orifice fine finish tips spraying equipment. Our coatings produce a smooth coating with a film strength which exceeds factory applied baked enamel.
If a glazing technique is needed its a look that is definitely in, this is completed meticulously by hand by me cabinet refinishing professional that's been in the business for over 3 decades.
So if you're looking for the right company to get the job done right the first time give us a call here at Painting Kitchen Cabinets Denver.
Our Mission:
Golden Rule our customers will be pleased, our workers will be pleased, our suppliers will be pleased, and we will be pleased. Honesty and integrity are the most overused and under applied words in the English language. Our intention is to set an example that other kitchen people can't even understand. We have been at this since for over 37 years and we know it works. Ask any of our Denver, customers.
If you are looking for a cabinet painter you can count on Painting Kitchen Cabinets Denver, to quickly help you get the work done that you need. No matter the size of the job, our contractors are ready to help you with all your needs.
Painting your cabinets is an affordable solution to change your cabinet color, however it is not a long-lasting solution. Is less expensive than redooring and refacing, but redooring and refacing include installation of all new doors & drawer fronts, custom-made to fit your kitchen in a new color and style of your choice.
Is it messy and time consuming?
Our process keeps mess to a minimum on most projects. Cabinet painting typically takes about five days, which means you can update your kitchen in time for an upcoming event.  Cabinet painting is also a popular choice when prepping a home or rental property to place it on the market.  When your cabinets are being painted, the doors and drawer fronts are taken off-site for approximately one week to 10 days.
Kitchen cabinet refinishing requires a systematic approach to achieve a quality product. It is not just "Easy" painting. Our methods guarantee that your cabinets will look like new and be extremely durable.
Cabinets painted with inferior interior enamel coatings can fail and chip easily.
Here is why:
✔ You have only one chance to do a cabinet refinishing job right. A failed cabinet job cannot be fixed. There are no second chances!
✔ Interior enamels used by most painters are too soft for coating cabinets. They chip very easily. These paints also do not have the silky smooth feel of cabinets done with a lacquer coating. The quality of our finishes is amazing.
✔ Most painters will use a roller and brush to paint your base cabinets. This inferior process leaves a rough texture. Our complete spray system provides you a superior finish.
✔ We provide you with a no-fault five year warranty that includes re-coating any doors or drawers that may be damaged for any reason. These are not limited (brushed and rolled) touch ups that may be offered by contractors that use inferior methods.
✔ Our industrial strength water borne acrylics hardens like a lacquer coatings providing a satin finish have a very hard and durable finish that is designed specifically for spraying cabinets. Our coatings are PPG certified by the Kitchen Cabinet Manufacturers Association.  Interior trim paints that are commonly used by our competitors do not meet these industry standards for hardness, and durability. 
✔ The whole process takes as little as one week and you never lose the use of your kitchen.
CABINET REFINISHING WARRANTY
Your cabinet refinishing job will be covered by Painting Kitchen Cabinets Denver,  five (1) year hassle-free, worry-free warranty. Our warranty covers all chipping, bubbling, flaking, no matter what the cause may be. If any of these items occur, Painting Kitchen Cabinets Denver, will refinish the effected doors or cabinet boxes. This system is designed to provide you peace of mind.
PROFESSIONAL KITCHEN CABINET PAINTING VS NEW KITCHEN CABINETS
For a fraction of the cost of replacing your cabinets, we can refinish them.  We spray top of the line primers and paints, achieving a second-to-none, extremely durable finish. Generally speaking, other painters paint cabinets with a brush and roller, using "retail quality" primers and paints, which often chip and peel in no time at all. Painting Kitchen Cabinets Denver, is different in that we'll stand beside our product and can guarantee your satisfaction.
Another benefit of cabinet refinishing is the time savings. Replacing them puts your kitchen out of commission for weeks. Most refinishing projects by us can be completed in 7 to 10 businessdays!
Colors for cabinet painting in Denver CO.
Do you want to spruce up your kitchen cabinets? If yes, you are in the right place. When it comes to cabinet refinishing in Denver, you need to take into consideration a few colors or ideas that will help you paint kitchen cabinets. 
In today's article, we are going to give you some popular paint color ideas for your kitchen cabinet refinishing Cleveland. Make sure you read this article carefully so that you grasp all the essential information and get the most out of it. Read on!
If you don't have the experience to find the right painting color for your kitchen cabinets, we must tell you that gray, blue, green, red, yellow, and ivory are some of the most common and popular colors. 
If your home is like most, the kitchen is the place where loved ones gather to chat, snack, bond, and spend time with one another. Many people feel that their kitchen is the true heart of their home. Sometimes, however, your kitchen can start to look a little overworked, even tired. Are you feeling the need to freshen, renew, change, or update your existing kitchen aesthetic?
We can help you bring new life to your kitchen with our cabinet refinishing services. Our expert team is well versed in the latest industry techniques and technology involved in cabinet refinishing, and we can help you achieve the look and feel you want in what is arguably the most used room in the house.
You don't need to do a complete remodel of your home or your kitchen to get a vibrant new look. Lots of people put off updating their kitchen because they fear the cost and inconvenience involved in remodeling, but it doesn't have to be that way. With Painting Kitchen Cabinets Denver, your cabinet refinishing can be done in a matter of days, and you won't have to move out of the house during the process.
With our kitchen cabinet refinishing, you won't deal with weeks of chaos involving messy demolition, noise, and construction; we are in and out of your home in a week to 10 business days, and you have a fabulous "new" kitchen cabinets when we are done.
Painting Kitchen Cabinets Denver, won't leave you with an empty wallet, either. In fact, we can help you keep a good deal of money in that wallet with our kitchen cabinet refinishing. You can bank on saving anywhere from fifty to seventy five percent over the cost of replacing your cabinets, which can literally save you thousands of dollars. If you do decide on a complete remodel, that's money you can put toward other expenses.
If you're tired of your kitchen cabinets and want them to get a new life entirely, then we are a company that provides the best cabinets refinishing, cabinets painting, staining & refacing services.
Denver Cabinet Refinishing
If you would like to refinish your kitchen cabinets, reface them or even repair & paint them with doors, we can help. 
Want to get new custom kitchen cabinets, new kitchen countertops, new backsplash, new kitchen flooring, get a total new kitchen designed and remodeled, we can make it happen.
Cabinet Refinishing & Cabinet Painting Services in Denver Co.
Kitchen cabinets Refinishing, Kitchen cabinet Painting We do it the Best
▪︎Custom kitchen cabinets design, Painting kitchen cabinets, Repairing kitchen cabinets.
▪︎Replacing kitchen cabinets, Revamping and improving kitchen cabinets.
▪︎Painting your kitchen cupboards, essentially giving them a new breath of life.
▪︎Providing improvements to cabinets that can include new hinges, new handles etc.
Cabinet Refinishing in Denver, Colorado
For high quality cabinet refinishing in Denver, Colorado residents have trusted Mendoza's Paint & Remodeling's cabinet refinishers for years!
When it comes to refinishing cabinetry in Boulder, our skilled craftsmen do the job right, maintaining our commitment to quality and high standards. We at Painting Kitchen Cabinets Denver, have the expertise and dependability that you are looking for. We offer the most professional and affordable cabinet painting throughout allof Colorado including: Jefferson County, Erie CO., Boulder Co, Frank Town Co., Castle Rock, Castle Pines, Parker Co, centennial Co, Castle Pines Co, Castle Rock Co, and all of Douglas County, Lakewood CO, Littleton Co., Lafayette Colorado, Littleton, Adams County and all of Denver County, Centennial CO, including Longmont Co, Colorado Springs CO, Firestone CO, all of Colorado, Louisville Colorado, Frederick Colorado, Thornton colorado, Arapahoe County, Loveland Colorado, fort Collins Colorado, and Superior Colorado, Highlands Ranch, Broomfield.
We have been painting cabinets, staining cabinets and glazing cabinets in using a variety of paint colors, finishes and textures. Our cost-effective cabinet resurfacing in Boulder, extends the life of your cabinets and saves you money. Don't buy over-priced new cabinets when we offer competitive pricing for refinishing cabinets in all of Denver Colorado. Let our experienced cabinet painters in Denver, be your one-stop resource for cabinet painting or cabinet staining.
 Need a kitchen cabinet makeover in Denver? We are the leaders in refinishing kitchen cabinets for homeowners. We will refinish kitchen cabinets and fix your aged and cracked cabinet panels so they look like new again. If you want to update your kitchen, we resurface cabinets for a fraction of the cost of new cabinets. We are the cabinet repainting company to rely on when you're looking for quality workmanship.
For over 37 years, We have been providing custom cabinet refinishing in all of Colorado. Our attention to detail and excellent customer service is what has kept us in business and keeps our customers coming back! You can trust that we are professional cabinet refinishers in Boulder, are as courteous as they are knowledgeable and that you will be delighted with your updated cabinets.
Contact us about your cabinets refinishing project. Our cabinet painting crew will be happy to provide you with a competitive quote and stand by the outstanding cabinet refinishing service that we deliver. Call us today! 303-573-6666
To see more painting kitchen cabinets Denver co,tips click on the link below.
https://www.thespruce.com/interior-paint-guide-room-by-room-1821161