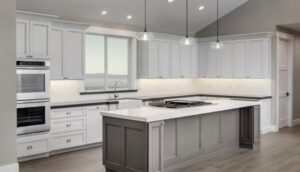 The easiest and most effective way to make a drastic difference in your kitchen is by painting the cupboards. Kitchen cabinets are generally expensive household fixtures to replace if you don't like the way they look. This is why homeowners often call us to paint or stain their cabinets. We can paint, stain or refinish kitchen cabinets, depending on what look our customers want to achieve for their dream kitchen.
You could save yourself thousands of dollars by renewing your kitchen cabinets with a fresh coat of paint. Replacing your kitchen cabinets is an incredibly expensive choice. Painting your kitchen cabinets can be a tedious endeavor. Making sure they look perfect is a difficult task to undertake on your own. Choosing to paint your kitchen cabinets is a step towards increasing the value of your home without the expensive renovation. Not only will they look gorgeous, but that built up grime and grease will become a thing of the past.
Save yourself the stress and leave it to the professionals. Stunning looking kitchen cabinets are a phone call away. We know the right kinds of paint that will create the best finish on your kitchen cabinets.
Customer satisfaction and high-quality results are a conviction of ours.  This is a business that we enjoy.  Our focus is refinishing your cabinets in the same process and same materials used in high-end custom cabinets.  The goal is to make them look and last like brand new in the color of your choice, all done with minimal disruption to your home.  Most of the work is done in our custom shop. Let us help you make your home the way you imagined.  Refreshing your outdated cabinets is your best solution compared to full replacement.  High quality refinishing will also add value to your home in the event you wish to sell.
We specialize in the ability to paint kitchen cabinets is a similar process to staining. Because we have high specifications, it is an arduous process. Similar to staining, we begin with fully sanding your cabinets before they receive a full priming. Before we lay the first coat we caulk areas as needed if previously caulked or contracted
Our paint looks like it was personally applied, not like a film of plastic.
We use waterborne primers, paints, and protective clear coats as the basis for the Painting Kitchen Cabinets, Colorado, painting system.
All of the coating products we utilize are non toxic, very low VOC, and can be safely applied in an inhabited house or building.
Painting Kitchen Cabinets Process Overview

We start with removing all hardware, and seal your kitchen off with plastic at openings, mask off entire kitchen (floors, backsplash, and appliances). Cabinets, are sanded, and if contracted we will bondo imperfections but never seams because of the high Probability of recracking. Your cabinets are sprayed with primer, sanded, and then spray finish the inside and outside of cabinets & drawers with the color(s) of your choice.
Next your kitchen is put back together, all masking paper and tape is removed and the kitchen is cleaned up.
Painting Kitchen Cabinets, Colorado, is one of the best ways to change the feel of your kitchen and create a like-new experience. Our residential painting company tackles your cabinet painting project with the industry's best equipment as well as more than 38 years of experience. We understand that having your kitchen turned into a construction zone is stressful, so we work efficiently without compromising on excellence. We easily handle the multi-stepped process that bogs down so many DIYers — cleaning the cabinets, removing the doors, organizing the hardware, prepping the surfaces, applying multiple layers of paint, and then putting it all back together.
Our regular process is to remove cabinet doors, drawer fronts, and interior doors and refinish them in our shop, using our airless sprayer equipment.  Spraying produces a much more uniform finish, without brush marks. And because the work is done in our shop, that's where the mess stays, not in your home. So you can continue to use your spaces while the painting work is being done. 
Then once painting is completed, we will reinstall the doors and drawer fronts. You get a transformed kitchen or bath, without all the mess!
In addition to painted cabinets, doors, and trim, we also handle in-shop refinishing such as staining and varnishing.  If your cabinetry and doors are structurally sound and you still like the design, then maybe all you need is a facelift with a clean, new finish and perhaps some new hardware.  (We can install that as well, when we put those doors, drawers, and cabinet doors back in place.
The eye catching final finish will complement your entire home. We use the absolute highest quality acrylic spray coating to get that new and perfect look. We have low gloss, high gloss and colours to choose from. Accented with new cabinet hardware, we know you will be amazed by the look of your new room, and all of this for much less than you would pay for replacing them!
 
Bathroom Cabinet Painting
Bathroom cabinets and storage units can become worn and damaged because bathrooms are one of the most humid and heavily used rooms for their size in a family's home. Refresh your bathroom with surface renewal for a new look at a fraction of the cost of renovating the room. When making a decision on realty purchase, bathrooms are one of the main rooms that make or break the sale. To increase your home's resale value or refurbish your newly purchased home, give us a call and consult with us on your options for bathroom painting. We also refinish bathroom tiles, tubs and countertops. Please contact us to discuss your many budget-optimal choices.
Having your cabinets painted is a great, cost-effective way to refresh and revitalize any interior space. That is why Painting Kitchen Denver, Colorado, offers detailed cabinet painting to give your home a brilliant new look. If you are tired of looking at your worn-out cabinets, we offer an array of colors and finishes to modernize and bring out the personality of any room. Our friendly, expert cabinet painters work efficiently and will keep you informed throughout the process to ensure that you get exactly what you want. For more information about our painting services, contact us at Painting Kitchen Cabinets Denver, Colorado, Painting today!
Updating your kitchen can be a high priced and time consuming task. Thankfully, you don't have to buy expensive new cabinets to transform your home. Painting Kitchen Cabinets Denver, Co. a wonderful alternative to a total remodel. And as an added bonus your older wood cabinets are probably better quality than the majority of the products on the market today. Plus painting or refinishing them will save you the mess and stress of a pricey cabinet replacement in all of Colorado.
If you like the look of your existing cabinets and simply want them freshened up, we suggest a simple and transformational process that will restore their previous shine. We give the doors an in depth by lightly sanding, to eradicate all traces of smooth areas for proper adhesion. Giving them a light sanding to dull the existing finish and improve adhesion. After that we apply a coat of primer a coat a industrial strength waterborne acrylic that hardens like a lacquer paint providing a satin finish, depending on what you have, to give them an exceptionally strong finish.
We use waterborne, environmentally friendly products as often as possible and as out top coat only, we use a solvent based primers when completing our Colorado, cabinet painting Colorado, projects. These products have less of an odor than conventional lacquer or oil based finishes while retaining durability.
Typically we recommend a sprayed finish on the doors and drawer fronts and a brushed finish on the rails – sometimes called the boxes or cabinet the bases. The main advantage to this is that it keeps the airborne dust and paint odor within your house to a minimum. We realize how devastating paint dust can be to the furniture within your home. We prefer to do all of the finish work on-site. In order to do this we have to mask off your kitchen or dining room to do spray the doors and drawers in our mobile booth.
Here at Painting Kitchen Cabinets Denver We completely understand your potential for damage to the rest of your home and property skyrockets when Do these updates to your kitchen, From doors and entry ways, to the floors, and even outdoor landscaping. By refinishing your current doors and fixtures, you could prevent a ton of additional damage, which could cause you as well as your home's worth thousands.
If you are looking for kitchen cabinet refinishing in Denver, can help. If you're looking to restore your kitchen cabinets back to their original life and luster then we are the professionals for you. We bring life back into dreary looking cabinets. We have over 38 years of kitchen cabinet refinishing experience.
We are professional and can handle any size job from homes to commercial projects. We service The Denver metro area and all surrounding cities including:Aurora CO., Superior Colorado, Frank Town Co, Firestone CO, Longmont Co, Louisville Colorado, Thornton colorado, Broomfield, Lafayette CO, Denver County, Jefferson County, Erie CO., Parker Co, Firestone CO, Lakewood CO, Loveland Colorado, Centennial CO, Douglas County, Arapahoe County Highlands Ranch, Frederick Colorado, Boulder Co, Adams County, Castle Rock Co, Littleton Co., Colorado Springs CO, Littleton, Castle Pines, Ft Collins Co., Colorado, .
Fill out the short form on this page, tell us about your Kitchen Cabinet Painting needs in Denver, and we will get right back to you with estimates and the best options for your needs. Let us help you transform dated, worn out cabinets into great looking new ones for an awesome price.
And always remember that We all spend lots of time in the kitchen; it has become the center of activity in many homes. What if your cabinets are older and showing their age, and you are ready to fix it? What about the nasty dark stains around the handles on the cabinet doors? Should you replace or restore your kitchen cabinets? You have two principal options to consider: Replace or Repaint.
Replacement Costs a little more, and you'll need a the help of a qualified carpenter to make sure the job is done right, and that you get exactly what you want. Replacing your cabinets will also give you the opportunity to change the layout of your kitchen if you want.
Repainting – Looks good if done properly and it's least expensive of the two options And always look for companies who guarantee a factory finish. Of course, it doesn't allow for changes in the design or layout, and your cabinets must be in good shape. Paint is now considered a modern finish for cabinets.
Painting Kitchen Cabinets
Despite what you see on some of the cute, popular and trendy (cheap, quick and wrong?) fix-it shows on TV, you should not just slap a coat of paint on your existing cabinets But only if it were really that easy. You would get a quick change of color. You would also get a maintenance and durability problem that will never be resolved without complete surface preparation and repainting. You need to dismantle, prep the surfaces, prime and then paint for a durable and professional finish.
We could never stop Emphasizing on the Importance of the preparation When it comes to kitchen cabinets. We take over so many jobs from the homeowners who call us for help, Claiming that they hired a house painter to paint the cabinets and now the paint is peeling off everywhere.
Giving your kitchen a fresh new look without breaking the bank remains our number one priority. We stand by our reputation as Painting Kitchen Cabinets Denver, work tirelessly to provide exceptional customer service and top quality results.
To learn more about cabinet painting and refinishing services at Cabinet Refinishing Denver, please contact us here or call us at 303-573-6666
https://www.google.com/amp/s/www.thisoldhouse.com/platform/amp/painting/21247350/tips-for-refinishing-kitchen-cabinets