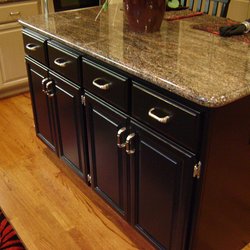 Kitchen Cabinet Refinishing Denver
Serving all of Colorado
Kitchen Cabinet Refinshing Denver
"Kitchen Cabinet Refinishing Denver" offers top notch painting when it comes time to refinishing your kitchen cabinets. We know that adding a solid color to your cabinet refinishing project is a great way to warm up your home with a fresh look. Refinishing cabinets also saves money compared to putting in new cabinets and I mean we can save you thousands.
Kitchen Cabinet Refinishing Denver
Always make sure before spray painting your kitchen cabinets that you blow all dust and debris off. To seal the cracks on the inside of the doors that you cannot see while the doors are still in there what condition, make sure you use a top-notch caulking that at least has a 50 year and over guarantee. After all is said and done when it comes time to applying primer always make sure you take tack cloth and wipe down any loose debris that the air hose did not blow off so that it does not land up in your primer paint and makes it easier sand. These are a few tips to show the aspect of what goes on to painting kitchen cabinets, if you're looking for the right company to get the job done right the first time and save you thousands of dollars give us a call here at painting kitchen cabinets Denver 303-573-6666. Thank you.
Areas we Service, Denver Co. Premier Painting Kitchen Cabinets Denver, Also Serves, Aurora Co. Larkspur Co. Castle Pines Co. Parker Co. Highlands Ranch Co. Littleton Co. Centennial Co. Lakewood Co. Castle Rock Co. Jefferson County, and Douglas County
to see more Kitchen cabinet refinishing tips click on the link below

http://www.diynetwork.com/how-to/how-to-paint-kitchen-cabinets/index.html